Small brushless motors
Automation

Health & wellness

Life environment

Automotive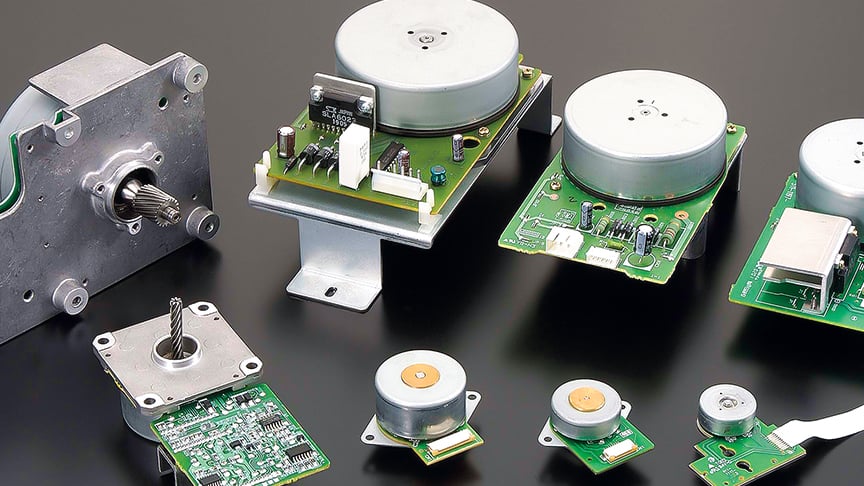 Brushless DC motors are used in a wide range of products such as room air conditioners, water heaters, printers, and ATMs. Meanwhile, demand for small electric motors is growing. This page describes the features of small brushless DC motors, including output, size and gearing. We also describe what to consider when selecting brushless DC motors to develop your new product.
Output of small brushless DC motors
Motor size is typically categorized by output.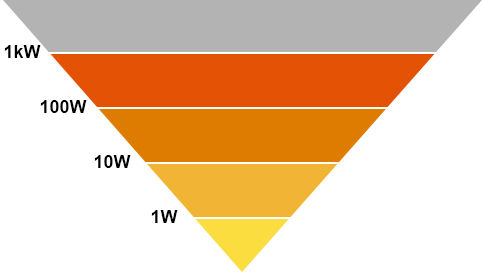 While there is no particular level of output that defines a motor as being "small," brushless DC motors are usually categorized as large or small based on the following output ranges.
Large motors: 100 W to several kWs
Small motors: Up to 100 W
Micromotors : Up to 3 W
A smaller motor is more efficient than a larger motor for the same power output.
Brushless DC motors are becoming more efficient while still maintaining the same external dimensions. Examples of applications where high-efficiency motors are used include the fan drives in air conditioners and water heaters, the actuators used to open and close dampers in large air conditioning systems, and the drive systems for conveyor belts or gears in ATMs.
Size of small brushless DC motors
This section describes the sizes of brushless DC motors.
Brushless DC motors with a radial dimension up to 90 mm in size are commonly referred to as "small." Meanwhile, there are a lot of "small" brushless motors with mountings of 15 to 20 mm in size.
The smallest brushless DC motors are now available with a motor diameter of 3 mm and a motor length of 8.4 mm (rated torque of 0.013 mNm). Small size brushless DC motors are needed in applications with tough design requirements of product weight or the space available for accommodation of the motor.
Unfortunately, smaller motors usually have lower output.
What to consider to determine gear ratios of a brushless DC motors with a gearhead
A gearhead is a gearbox used to change the motor speed and increase its torque. Using a gearhead with a low gear ratio provides higher speed but less torque.
Given the maximum speed of efficient brushless DC motors, gearheads need to satisfy the following performance requirements.
Low noise at high speed
Capacity for high torque
Long life
Those requirements are important factors beside the right gear ratio when selecting a motor together with a gearhead.
Key considerations when selecting small brushless DC motors
Small brushless DC motors are used in a wide range of applications, encompassing fan motors for air conditioned car seats, fan motors for medical CPAP devices, damper actuators for building air conditioners, and the motors used in bladeless fans or the area sensors at factories and other sites. The following factors should be considered when selecting a motor.
Trade-off between motor efficiency and cost
Brushless DC motors are usually the first choice when when a highly efficient motor is required. Small brushless DC motors may use special parts and materials to achieve high efficiency. Examples include the use of electrical sheet steels with lower losses in the motor cores or neodymium magnets that have stronger magnetic fields.
Inner rotor motors are recommended when end product you design needs high motor speed or variable speed control due to its structural or performance requirements, and outer rotor motors are best in cases where motor rotation stability is important or where the motors need to be flattened or low-profile.
On the other hand, cost considerations may include options in addition to brushless DC motors, such as brushed DC motors, AC synchronous motors, or AC induction motors an option.
Enhancing control circuit performance
A control circuit undertakes a role of receiving inputs from the sensors, switches, etc. and then send signal on motor control to a driver. This control circuit will need high performance in applications where detailed torque control or precise control over motor rotation is needed. Using an MCU or other processor device in the motor drive opens up the potential for advanced control, such as variable motor speed or interoperation with sensors.
Output and size are factors to consider when using small brushless DC motors
There is rising demand for small brushless DC motors with higher efficiency. When selecting a small brushless DC motor, you should consider not only output, but also the other factors discussed here.
Contact us for more information
New inquiry

Prototype

Upgrade

Customization

Your spec

Literature

Support

Others