Introducing ASPINA's HVAC blower motor for automotive applications
Press release
HVAC (Heating, Ventilation, and Air Conditioning) blower motors are the main components of automotive air conditioning systems. The needs from related industries and consumers concerning HVAC blower motors have changed over the years. Higher temperature control performance is necessary to cope with recent climate changes, and consumers have higher interest in air purification since the pandemic. At the same time, vehicle trends are shifting to EVs, meaning that high efficiency in automotive components are essential. We ASPINA introduce our HVAC blower motor to address these recent requirements.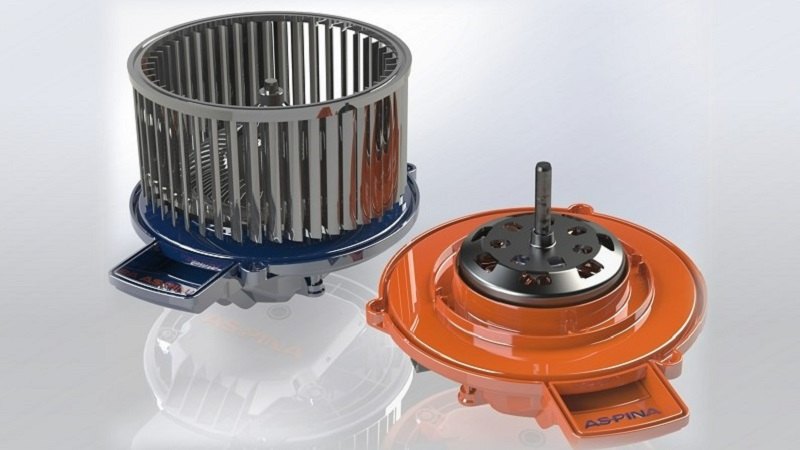 Quiet, compact and lightweight
We have been supplying our HVAC blower motors to some of the largest tier-1 companies in the automotive industry, and they are highly rated for their quietness and EMC (Electro Magnetic Compatibility) strength. They are compact, and among the lightest blower motors in the industry, weighing only 850g without the fan. They can also be customized and supplied either with or without the fan to meet the precise needs of HVAC manufacturers.
Automated lines and global network ready to support HVAC customers
ASPINA's HVAC blower motors are produced on automated lines at our plants in China and Mexico which enable stable supply and product quality. We also have staff working at our group companies around the world such as in Germany, the U.S.A., Mexico, and China, as well as at our headquarters in Japan. Thus, we are always ready to meet current demands and support manufacturers in the HVAC market. If you have any questions or would like samples, quotations, consulting on customization etc., please feel free to contact us from our form.