The compact autonomous robot with ASPINA In-Wheel motors works safe in narrow aisles
Automation

Robotics

Delivery robot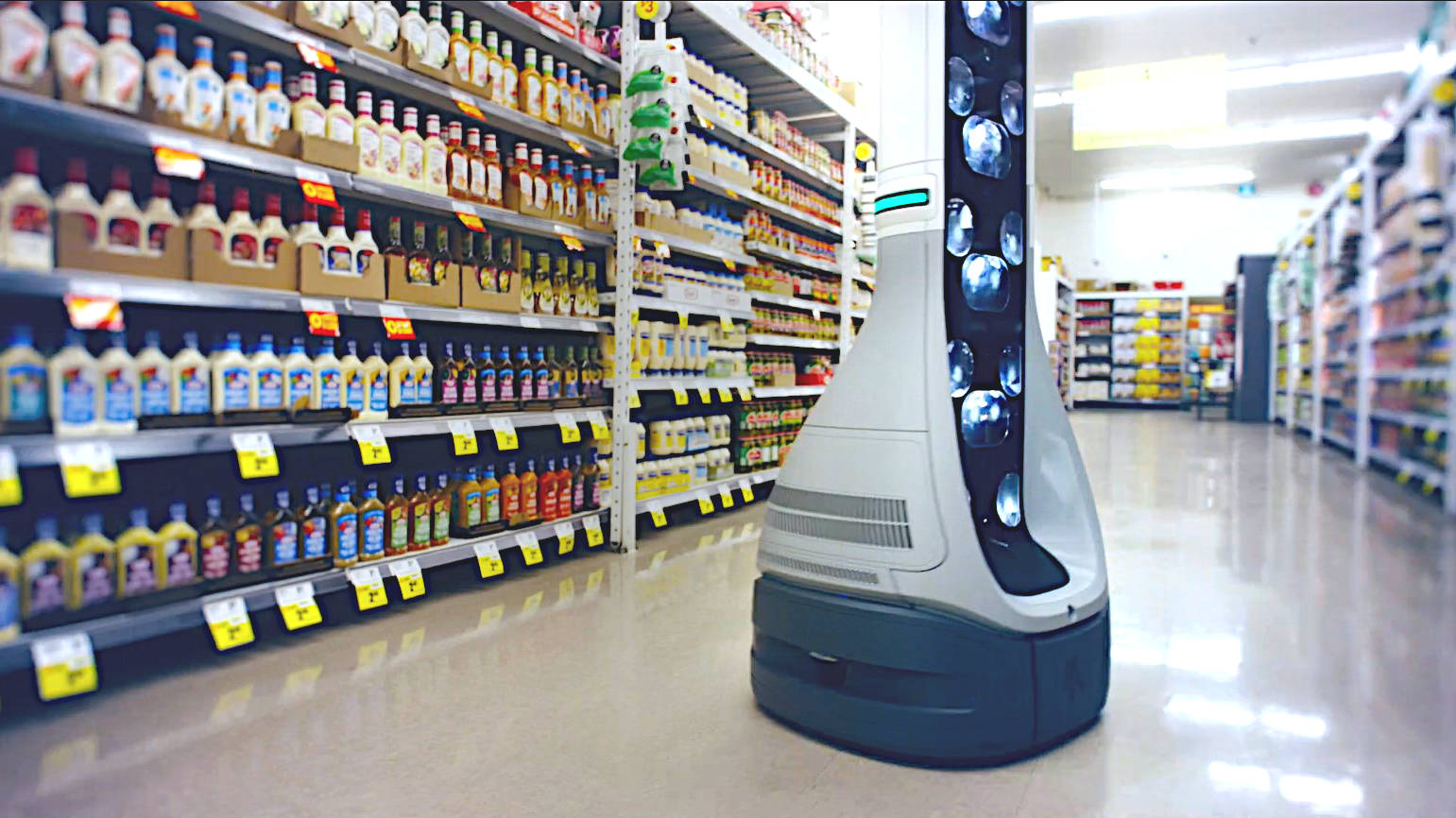 Company C: labeling and identification management for retail and logistics
Avoid risk of physical contact with shoppers, store staff as well as other obstacles
A number of companies are working to commercialize autonomous service robots that can travel around stores and offices with natural navigation. In a store or office building, people and objects come and go through narrow pathways. Safe and appropriate unmanned operation under such conditions is one of the critical issues for practical application of service robots.
Company C, which produces innovative products for store shelf management, was developing an autonomous robot that can save the labor resources for shelf management. Company C planned to introduce the robots to a supermarket chain with approximately 3,000 stores nationwide in the United States.
Autonomous robots can perform monotonous and repetitive shelf management tasks on a predetermined schedule, resulting in less chances of a shortage of goods and allowing store staff to spend more time serving customers. This will improve store experience of customers and increase store sales. In addition, labor saving by autonomous robots can suppress rising personnel cost of stores. Company C expected their new autonomous robots would improve store and employee performance in terms of both revenue and expenditure.
On the other hand, Company C thought it necessary to develop an autonomous robot that would work in a store with adequate safety. Unlike warehouses with large floor areas, aisles in stores are narrow, and customers and shopping carts come and go irregularly in the aisles. The autonomous robots Company C was developing have a natural navigation to avoid making physical contact with customers, store staff or carts and harming a customer as a result.
For example, when a customer with a cart is looking at the shelves and wandering down an aisle 70 inches (1.8 m) wide between shelves, the autonomous robot can only have less than half the width of the aisle to pass. The autonomous robot would be required to travel and perform its job by slipping through that narrow path without colliding with people, carts, shelves, and columns.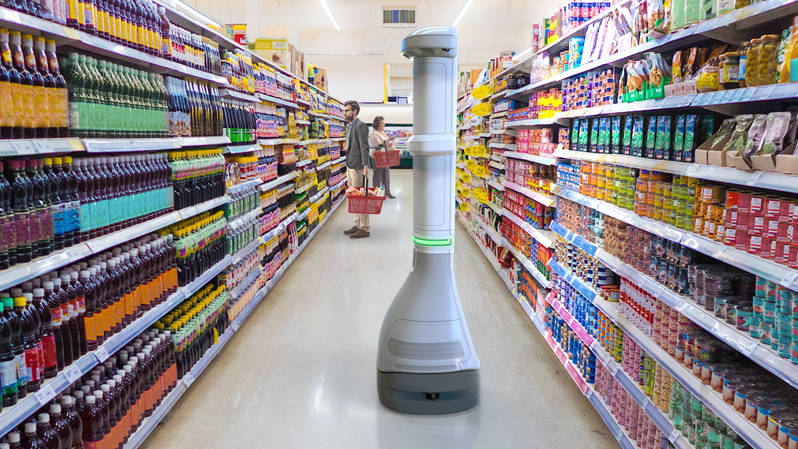 Autonomous robots can save time for store staff taking care of customers, but need to work in a safe manner in the aisles
Why In-Wheel motors are the key to secure the safe operation of the autonomous robot
While "autonomous movement" and "working in place of humans" are essential functions for an autonomous robot, Company C also focused on the safety measures to protect customers and store staff when they were developing the robot.
In particular, direct contact with customers, carts and any other objects in the aisles must be avoided.
Each of the wheels and components for drive and power supply for an autonomous robot is relatively large, and therefore the platform that houses all those parts tends to be large. Company C had to find a way to make the platform in a size small enough, both its width and depth, to navigate in narrow paths in stores.
Company C learned that assembling wheels, gears, and motors separately would increase the length from the motor shaft to the wheels and would not reduce the size of the platform that houses all of the motors, gears, and wheels. That size would prevent the autonomous robot from moving through the narrow aisles of the store, and would likely come into contact with people and objects in the aisles.
Company C considered to introduce an In-Wheel motor that houses a motor and gears to save space in the platform. However, they found that ready-made In-Wheel motors in the market were relatively wide and had problems in stopping accuracy. Company C was not able to find a company which could produce custom-made In-Wheel motors which they desired.
ASPINA In-Wheel motors brought more to the small robot platform
ASPINA had been supplying various types of motors to Company C for a long time. After hearing about the project, we decided to propose a new In-Wheel motor for the autonomous robot they were developing.
We specialize in the customization of drive systems including motors, and have provided many customers with custom products. For the project of Company C, we thought we would be able to develop an In-Wheel motor that meets their needs and work with them from designing principle prototypes through manufacturing of the final products.
Our design engineers, with expertise based on their experience from designing precision motors and gears for many years, developed a structure of housing a high efficiency brushless DC motor and high precision, high reduction ratio planetary gears inside the wheel. With the new structure, we created a 50W compact In-Wheel motor with a wheel diameter of 6.5 inches (165mm), width of 4.5 inches (114mm) and stopping accuracy of +/-3mm, all of which met the requirements of Company C.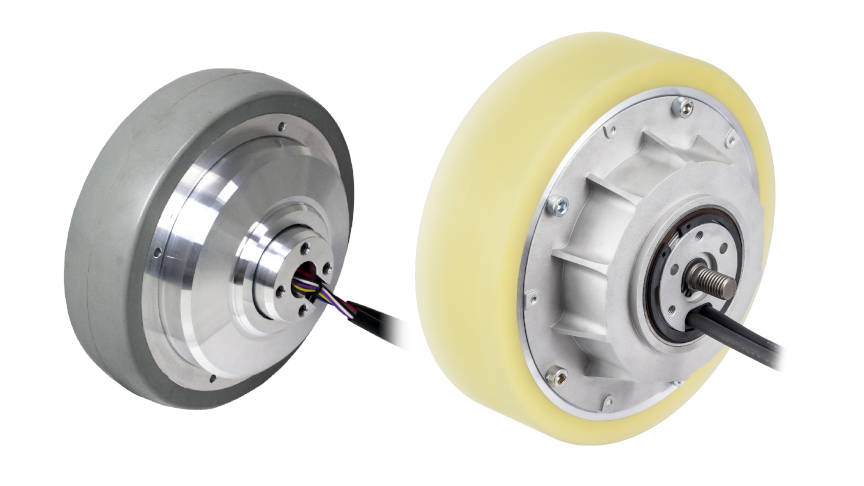 ASPINA In-Wheel motors: 50W type (left) and 200W type (right)
The small size of the In-Wheel motors saved enough space to retract a large capacity battery between the wheels. Not only did it reduce the overall size of the platform, but it also lowered the position of the batteries toward the floor. This consequently lowered the robot's overall center of gravity and enhanced the stability of the robot. In addition, the high-precision gears provided the high stopping accuracy of the robot, thereby improving its safety.
The requirements of Company C were detailed and diverse beyond safety. We held regular meetings with Company C from time to time, understood the true meaning of their requirements and made various proposals. As a result, the In-Wheel motor acquired a high level of customer satisfaction.
ASPINA In-Wheel motors turn inventive ideas of autonomous robots into real products
Company C finished the autonomous robot with a sleek, uncluttered body that would not interfere with customers in the store aisles.
Company C wants to introduce their new store management system including the autonomous robots to supermarket chain stores nationwide. They believe the system will significantly change the store experience for customers and store operation including shelf management and employee management. They estimate that automating the repetitive simple shelf management tasks could save up to US $30,000 per store per year in man-hours, which could be spent on high value operations that contribute to revenue. In this way, stores with this system can improve the store's management metrics in terms of both revenue and expenditure.
The project manager of Company C sent his gratitude to the ASPINA team, saying, "Many thanks for your support and contributions to make this happen. We look forward to working with you deeper."
Company C plans to continue evolving its shelf management robots, and ASPINA will help them drive future projects through the provision of quality products and services.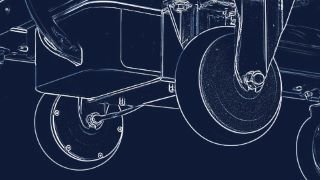 ASPINA designs and provides In-Wheel motors, controller boards and software all together to meet customer requirements.
Customer challenges
There was a critical need for an autonomous robot that can safely navigate narrow aisles in stores avoiding physical contact with people and objects
If the wheels, motors, and gears are purchased separately and assembled, the platform of the autonomous robot becomes too large
Ready-made In-Wheel motors available in the market were unable to meet the requirements, and no manufacturers that could provide custom solutions were found
ASPINA solutions
Custom design of the wheel, brushless DC motor, and planetary gears made a compact and precise In-Wheel motor
The compact In-Wheel motors created space to store a large battery between them, which reduced the size of the platform as well as contributed to a lower center of gravity for the autonomous robot
The In-Wheel motor satisfied the real needs by listening to what the customer truly wanted for safety and other needs
Contact us for more information
New inquiry

Prototype

Upgrade

Customization

Your spec

Literature

Support

Others