More than just a change of motor. Other challenges overcome to achieve further reductions in size.
Life environment

Kitchen equipment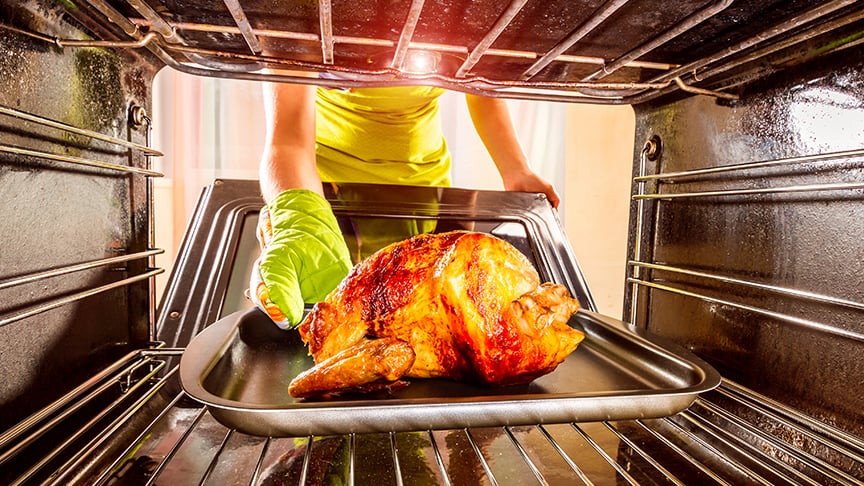 Company E: commercial cooking equipment manufacturer
Have we gone as far as we can in adding improvements?
"There was little scope left for further improvement," recalls the designer responsible for oven design at a commercial cooking equipment manufacturer, Company E, referring to a time when a major customer operating a restaurant chain in Company E's vicinity had come to them with a request: "We have a strategy to accelerate the opening of restaurants at smaller sites. So, we want each of the restaurants to have an oven that can be used to prepare a wide variety of meals even in a confined space."
The restaurant industry had been seeing rising demand for the establishment of restaurants in central city and other locations where space is limited. This had created a greater need than ever for restaurant equipment that is smaller or slimmer, but still delivers the necessary performance, leading the company to undertake ongoing improvements.
In this case, they had set about making the ovens smaller. This was despite the oven designer's concern that they had already made countless improvements to their ovens covering everything from materials selection to product design, leaving little scope for further reductions in size.
Even so, there was still one possibility that the company's development team had yet to address for making their ovens smaller. This was the fan motor and its auxiliary devices built inside the oven.
Could hope be restored to abandoned attempt at fan motor improvement?
According to the oven designer, fan motor improvement was something that customers had been keen on for some time.
Most of the motors used in Company E's products were off-the-shelf models manufactured and sold to standard specifications. Company E's oven designer states, "We asked our motor supplier about the possibility of customizing our motors, but were told this was not possible for small lot sizes. This had led us to give up on making any improvements around the fan motor."
Also, Company E mainly used AC motors for their cooking equipment products. The oven designer was aware that use of brushless DC motors would help with size reduction, because brushless DC motors can provide the same drive speed as an AC motor in a smaller device. Unfortunately, the company lacked the know-how to study the feasibility of applying a brushless DC motor and did not have any opportunities to obtain technical advice from outside sources.
At this point, the oven designer heard about ASPINA from someone they knew. This person explained how ASPINA can customize motors even in small lot sizes and suggested getting in touch.
"It was a revelation!"
ASPINA visited Company E to have a look at their existing ovens and discuss the motor and auxiliary devices used to drive the fan, offering ideas as to how improvements could be made.
In line with the oven designer's understanding, use of a brushless DC motor was suggested as a way to address the major issue of making the unit smaller and slimmer. The ASPINA salesperson also suggested that the change to a smaller and slimmer design could be extended to other surrounding components, the fan and circuit board included.
"It was a revelation," recalls the oven designer. "Nobody had ever suggested before that we could change the fan as well as the motor."
ASPINA explained that varying the speed of a brushless DC motor as needed by its easy control method could help make the oven more energy efficient. It also was able to add value by proposing improvements for Company E's other products. "This convinced me of ASPINA's experience with the commercial cooking equipment industry," recounts the oven designer about this advice.
Shorter lead time for customers and successful development of small oven
With regard to customization, after first asking about the quantities involved, ASPINA responded that it would be still feasible to specially design and manufacture in such small quantities. Judging that it would be able to achieve its development goals for a smaller oven, Company E launched into the development project immediately.
ASPINA also has expertise in fan design, so it took on this task in addition to developing the brushless DC motor. It also made fine adjustments to optimize the combination of motor and fan.
The project went ahead and succeeded in developing the small oven more quickly than the company had anticipated. There was positive feedback, too, from restaurants that installed the new ovens and were grateful for being able to find sufficient space.
Following the success with the oven, the designer also expressed enthusiasm for "replacing the fan motors in other commercial cooking equipment of our product line-up."
Customer challenges
Need to make commercial cooking equipment smaller and slimmer due to increasingly severe space constraints in restaurants
Off-the-shelf motors were not up to the task of size reduction
While brushless DC motors were the deciding factor in reducing oven size, lack of knowledge left them uncertain how to proceed with making improvements in an oven
ASPINA solutions
Use of a custom brushless DC motor
Design expertise in motors, fans, and circuit boards to achieve a smaller oven
Shorter development time achieved by designing and fine adjustments the motor and fan together
Contact us for more information
New inquiry

Prototype

Upgrade

Customization

Your spec

Literature

Support

Others